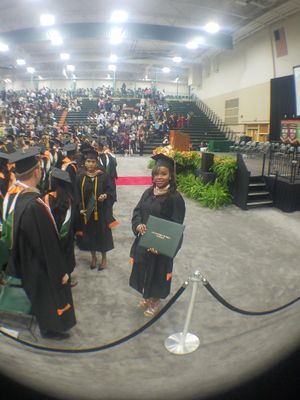 Prior to yesterday, I'd already graduated from college...twice!  Once with my Bachelors and the other for a Master's in Supply Chain Management. So when I decided to pursue my MBA (of which I was only a couple semester shy of considering I already had an MA), I didn't think that I would actually participate in the graduation ceremony.  This MBA was a personal endeavor for my development, growth, and future entrepreneurial & strategic leadership goals.  I didn't feel that I needed a public celebration for that.  BUT THEN I REMEMBERED.... 

1. Before I was born, the doctors saw that I would be born with a mental & physical disability due to being carried by a mother who was on drugs.   
NEWSFLASH - This milestone is a miracle.  I was not supposed to be able to learn on this level or probably even walk normally for that matter...let alone across a stage for learning! So yes I took the stroll!   
2. I wanted to afford my husband (of 6 months) the opportunity to see his wife graduate for all of the inspiration that is packed in him hearing, "Shy Amos-Powell" announced for an honorable reason.  Powell is his namesake. My hope is that he hearing it attached to a noble cause produces more faith in him for our journey & legacy.  

DISCLAIMER - I didn't invite people because I was not intending on walking originally PLUS I was only given a couple of tickets.  It turned out that my husband was my only support system in the audience & that is just perfect in my book! He captured all of the footage below. Enjoy! :-)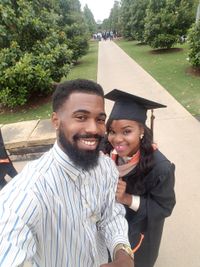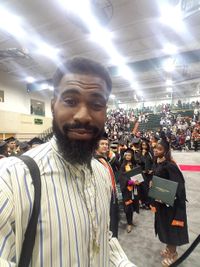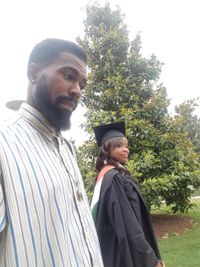 As of yesterday, 5/12/17, I am officially, considered a Master of Business. I pursued the MBA through the University of Texas at Dallas with an emphasis on Entrepreneurship. If you are reading this now, you know me as a Hip Hop & Spoken Word artist, speaker, and host, so you are probably wondering how I plan to use my degree.  I could list out all the ways, but just know that I have a very strong business acumen & entrepreneurial spirit...so I'll say...STAY TUNED! :-)