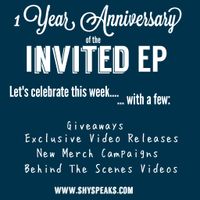 One year ago this week, I extended an official invitation to everybody, with my project, the
"Invited" EP!
We hosted an official release concert on 6/01/15 and made the music available on 6/03/15!  There's no greater feeling, than getting what's in you....out! And that's exacty what I felt and still do feel about this product offering.  The concepts, songs, ideas, melodies, metaphors, business plans, collaborations and emotions that I wanted to display were officially written, recorded, rehearsed and executed.  So I'm celebrating ALL WEEK with special announcements about new videos, giveaways, merch, and more.
First of all, the release concert was a Live Stream Online Concert via StageIt.com.  Who does that as an upcoming independent artist, they said? Ha! Me...and all of my #Addicts who tuned in from the comforts of their laptop, phones, tablets, etc all over the world! It was a huge success.  I was able to capture some live footage from the event courtesty of
Shaw Solutions
, led by Matthew Shaw who happens to be my good friend!  Which leades me to
Special Announcement #1
- New Video Release! ​Check out the Live Performance Video of 
Invited 
below! Second of all...
...we aso released new merchandise along with the new music.  The unisex, V-Neck SPEAK Tee!  To date we've sold about 100 of these shirts! So if you have one, you are officially rocking custom gear! Well that leads me to 
Special Announcement #2
 - New Merch Available!    
.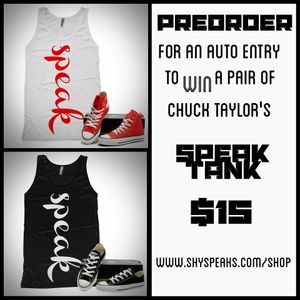 That's right, the SPEAK logo has a new TANK edition that is available for PreOrder and coupled with a
Giveaway
! When you pre-order your tank between now & July 3, 2015, you will automatically become eligible to
WIN
a pair of Chuck Taylor's in a drawing happening on July 12. The winners will be notified via email and announced online immediately after the drawing.  Purchasing multiple TANKS gives you more chances to win.  Although there will be one drawing per color style, Contestants can only win once! Excited about rocking the new gear & possibly winning some new shoes....head over to the
STORE
now! Meanwhile, I'm going to finish writing this blog, lol! 
Back to the release concert! There was an In-Room VIP audience of about 125 people who were either press/media personalities, family, close friends, artist, or industry personnel (shoutout to TenthChild, Inc. for sending out THOSE invitations)! These individuals had the court-side seat advantage, but the online viewers made the night special! They had a blast talking in the chat room and having tipping wars! Tipping wars! Now that is what you call #support!
That night marked a new milestone in my life, business, career, and faith! Please pardon me while I kick a few shot outs to a few notable people who commemorated the evening with me. Thank you to Adrion Butler, Christen O'Neal, Ethan & Audrey Kent, Meosha Jones, Colette Presley, Jaurdane Ivory, Mattie Michelle, Faith Anderson, Deborah Jones,  Serena Watkins, Tracie Hamilton-Jones, Joycelyn Brackens, Christopher Marshall, Jared "J.Paul" Foster, Eshon Burgundy, Sean C. Johnson, Semaj Langston, Matthew Shaw, Jovon Burrell, Kardal Coleman, Jontue Turner, and of course, my grandmother, Goldie Shaw (who made a cameo appearance in the
Heaven Video
lol)! Well, I had to stop before I just flat out named EVERYONE who was in the room. :-)
But that leads me to
Special Message # 3
- Behind the Scenes Video Footage of myself & the band backstage immediately after the show as well as reviews from super producer Asaph Ward and musician extrodinaire, Thad Tribbet & Family.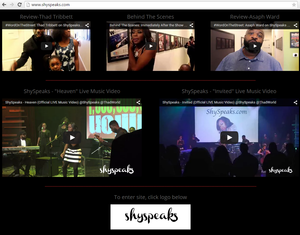 Anyway, beyond that night, I carried my message and music with me to over 50 shows, in several states, several schools, won two awards, was the cover girl of a magazine, sold over 1000 CDs/Digital Sales, recieved tons of positive feedback from my peers and even record lables, I mounted the platform with everyone from the Mayor of Dallas, Nicole Binion, Dr. Tony Evans, Scarface, and Lecrae of Reach Records,
with no major label, contract, deals, or budgets. Just me, God, a message, a mission and a ton of advid supporters!  
Happy 1-Year #InvitedEPAnniversary!